Last year was huge for the career of middleweight rising star Eryk Anders. After starting off 2017 with a bang and an LFA belt, Anders got the call to step up to the UFC and didn't miss a beat, winning both of his fights for the promotion to finish off 2017.
For Anders the step up to the UFC wasn't intimidating, as he puts it, no matter where he's fighting he approaches each bout the same way.
"Whether it's a regional promotion, Legacy, the UFC, whatever, I fight just the same," said Anders. "The stage is bigger and the lights are bright, but at the end of the day it all comes down to me going in there and doing what I need to do.
"I don't really feel pressure. There's more at stake the more fights that I have and I'm fighting better people and whatnot, but I'm continually growing as a mixed martial artist myself and I feel ready for the challenge."
Anders also puts more stock in the fact that he's picking wins, rather than trying to impress people, and that's what's helped him become of MMA's top prospects.
"The goal is to out there and get wins," said Anders. "I think I'm more capable of more than I've shown, but the main thing is going out there and getting wins against different kinds of opponents at different levels. It doesn't matter who my opposition is, I'm walking out of there with my hand raised."
Tomorrow, on UFC Fight Night 125 in Belem, Para, Brazil, Anders (10-0) faces the largest challenge of his career when he takes on former light-heavyweight title holder Lyoto Machida (22-8) in a 185-pound main event.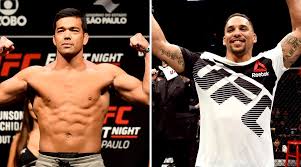 "I feel like I just have to go out there and be myself," Anders said. "Be patient, but at the same time apply pressure, and eventually touch (Machida) with my left hand a few times. I feel I'm the better grappler, so fighting on the ground will be in my favor as well.

"It's a great opportunity. This is definitely the path I've wanted to take. Fighting a former champ will hopefully propel me to the Top 15 division, and hopefully will lead me to fight another opponent ranked higher than me the next time, and do the same thing (as in this upcoming fight)."
Anders wants to keep climbing up the ranks and sets a nice goal for himself in 2018.
"If it was up to me, I'd fight between four and six times this year, and fight higher ranked opponents each time," said Anders. "I think if I do that and get all victories, that should put me in a good position by the end of 2018."
Follow Spartan Fitness MMA on Facebook , Twitter, and Instagram for live updates!